The buyer's journey is integral to any great content marketing strategy. Your content is going to waste if you do not understand how your customers shop, what is going to persuade them or how your brand builds trust towards their demographic. An effective way to overcome the many complications associated with producing successful content and implementing a high-quality content marketing strategy is through the utilisation of a content marketing funnel. By building the perfect content marketing funnel for your business, you can lead your potential customer through their buying journey – allowing them to understand your business and the services you provide through different stages of the metaphorical funnel.
What is content marketing?
Content marketing is a simple concept to grasp. It refers to planning, creating, distributing, sharing, and publishing content for your target audience. With the rise of the internet, consumers are more informed and have more knowledge about industries and products than ever before. Therefore, when it comes to content marketing, it's essential that you understand your buyer persona and how they shop. By understanding this information, you can make logical decisions about how you should be conducting your content marketing. It will also help you understand what channels or forms of content you need to be investing in to help your potential purchaser throughout their buyer's journey. There are many forms of content marketing and strategies that you can incorporate into your business model. The most common include social media content marketing, infographic content marketing, blog content marketing, podcast content marketing, video content marketing, and paid ad content marketing. All forms of content marketing require a strategy, and a content marketing funnel may be the best plan of action.
Why is content marketing important?
The need for content marketing is essential when trying to reach your desired target audience. By focusing on your content marketing strategy, gradual improvements can help with the following:
High-quality content marketing can be the difference between solidifying a sale or losing a customer. You need to ensure that your content marketing is effective, tailored to your specific user persona and demonstrates the capabilities and expertise of your company. Whether you're providing products or services, it's important that the customer is aware of your position in the given industry and can interact with the appropriate content that presents your brand positively. When it comes to content marketing funnels and implementing the best strategies to convert customers and boost sales, gaining assistance form an expert SEO service provider may be beneficial.
At Adaptify, we specialise in content and inbound marketing and can help you create the perfect content for each stage of the buying journey. We can also assist you with what channels or platforms to utilise when it comes to a content marketing funnel to optimise your content and increase conversion rate optimisation. Contact us today to discuss your content marketing strategy and how we can help build the perfect funnel for your business.
What is a content marketing funnel?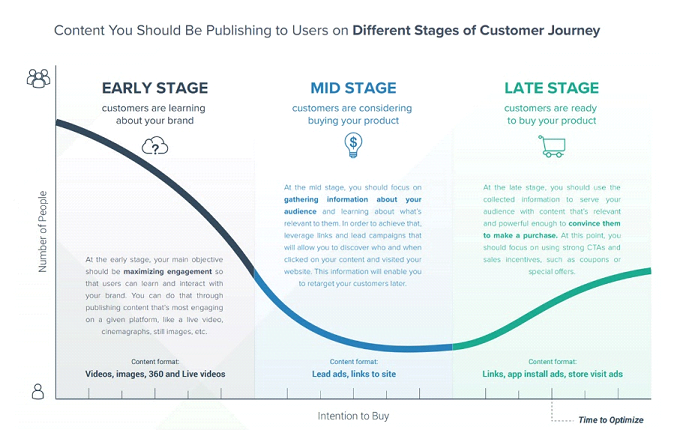 A content marketing funnel is a system that allows you to guide your potential clients through a buying journey. It focuses on three distinct stages – the first interaction, the conversion, and the final purchase. These three stages are divided into separate sections which make up the overall content marketing funnels. The top of the funnel attracts attention, the middle of the funnel generates leads, and the bottom of the funnel drives payments. Each stage of the journey, and therefore, each section of the funnel needs to pursue different goals and persuade the buyer in alternate ways. However, as the potential customer absorbs all the content, it must flow naturally to tell a powerful story that engages the buyer. Satisfying the needs of your customer is crucial, and therefore, understanding and building the perfect content marketing funnel for your business is integral.
Pre-Content Marketing Strategies
Before you start any marketing, here are six ways to help you better understand your target audience and plan your marketing.
A buyer persona identifies an individual not a demographic. It discusses what a buyer type is looking for, the challenges they face in doing so as well as the reluctance they may face when making the buying decision. Buyer Personas are powerful tools for doing this. They not only identify what an audience may look like, but they also identify where that buyer persona may engage with your content. What the intent of your content should be as well as where you should position it. Buyer personas should be the foundation, not just for your content, but your entire online marketing strategy. Every content marketing strategy begins and ends with the customer. We help businesses
research, identify and target buyer personas
.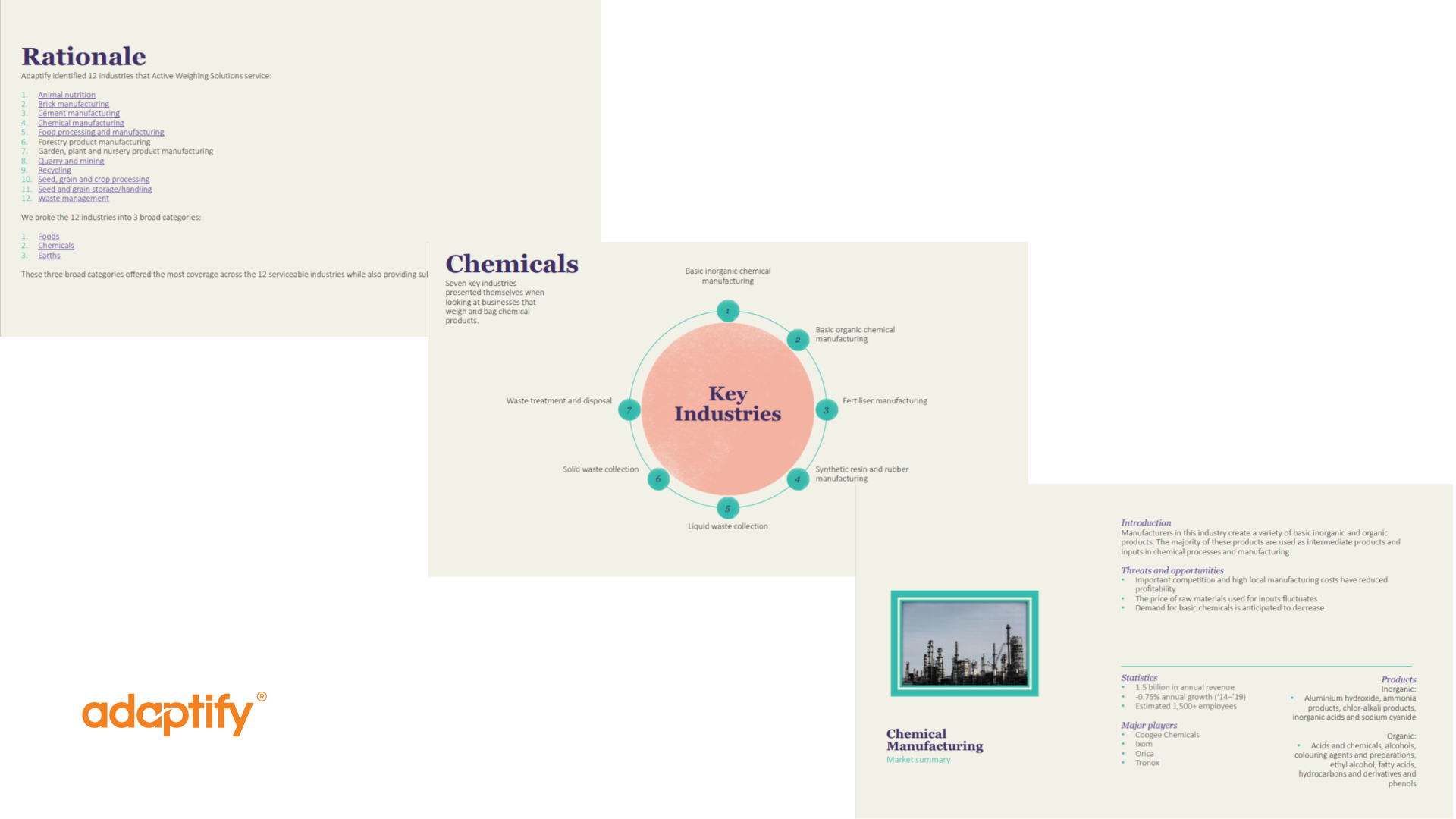 An industry persona or industry profile looks at the target industries your business in engaging with. Industry personas are critical for any B2B businesses that are looking to enter a new market or gain prominence in an existing one.
When it comes to industry personas, we look at everything from a SWOT analysis to major competitors and how well you are position in the market. If you are interested in an industry persona for your business contact us today.
Current & Future State Roadmaps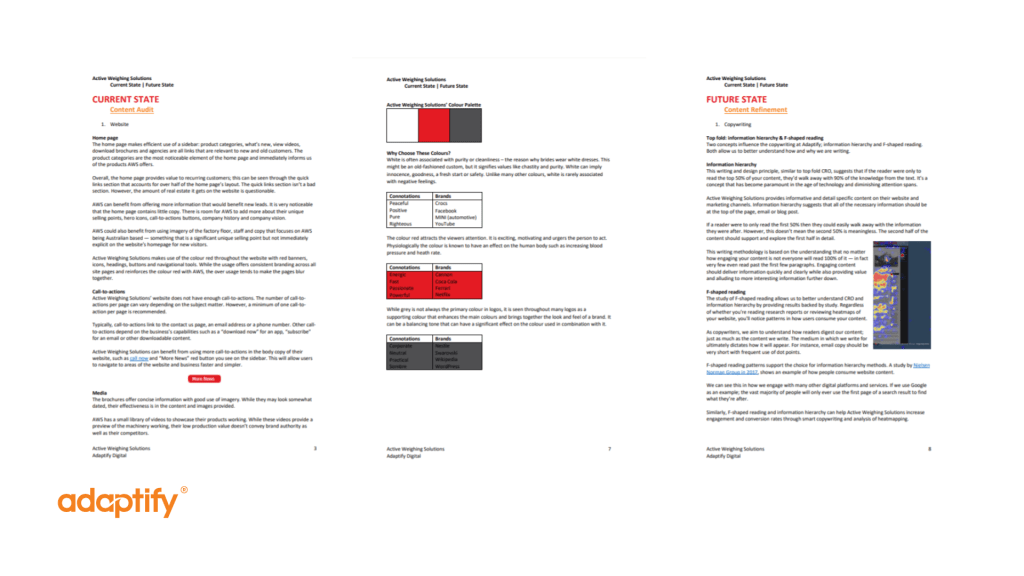 Our current state roadmap assesses how your current business and marketing is performing. We look at everything from your business and brand to copywriting and colour palette. The future state roadmap looks at what opportunities you have to increase lead generation and brand awareness. We look at areas you can improve on and any missed marketing opportunities you have that we can help implement.
The journey mapping of your potential and existing customers is critical for your business. Without this knowledge, your engagement and lead conversion will be inefficient and potentially disastrous. Customer journey mapping looks at how, where and why people are choosing your business — from the time of today, digital medium of choice to the level of engagement. You will be able to better understand how your customers interact with your business with a customer journey map by Adaptify.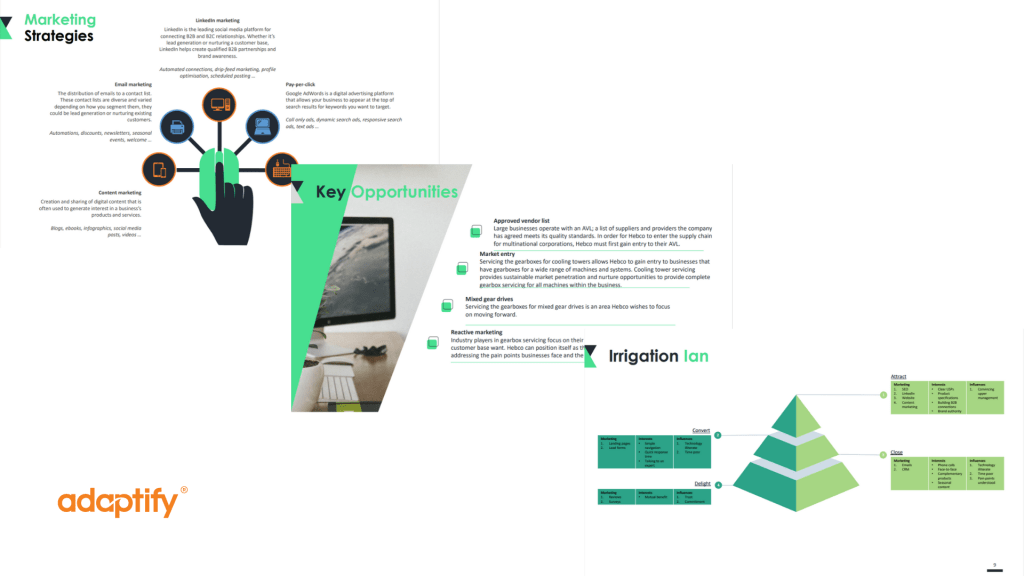 The backbone of a well organised campaign is with an editorial calendar. Here at Adaptify, we create diversified content for a wide range of business, industries and markets. Working across hundreds of campaigns in a day means we really on detail editorial calendars to plan our clients' campaigns.
We create editorial calendars for a wide variety of content types and campaigns — from blogs, social media posts to email marketing. If you are interested in running an integrated marketing campaign, choose Adaptify today.
LinkedIn marketing automations
The premier platform for B2B marketing is LinkedIn. We offer LinkedIn marketing to clients looking to take advantage of the platform's incredible ability to connect businesses with decision-makers in other industries and markets.
Our LinkedIn marketing automation services range for automated connection requests that grow your network and reach every day to automated drip-feed messages to engage and convert your ever-growing contact list. If you wish to harness the power of LinkedIn, contact us today.
Top Of The Funnel – Attracting The Customer
This is the first stage of the buying journey and the top of the content marketing funnel. The top of the funnel (TOFU) is designed to help you attract the customer. It's the perfect way to introduce your business, the services or products you provide and answer any of the questions they may have about your brand. Usually, your audience is not looking to buy or readying themselves to get their wallets out and purchase whatever it is you're selling. However, it is the perfect opportunity to spark an interest and initiate the overall journey.
Studies by SEMrush concluded that 'how-to' guides attract the most attention at the top of the content marketing funnel, with 72% of marketers opting for this strategy. This is because solving issues or tackling difficult queries is an insightful way of drawing attention to your business. It allows your audience to understand that you have the relevant expertise in the given area and that you can provide the information needed to rectify any further issues.
Measuring the success of your top of the funnel content marketing campaign can be done in a variety of ways – with tracking the number of visitors being 73% effective (SEMrush). Other methods include analysing conversion rates, time on page, number of leads, and bounce rate.
Top of the funnel content:
Engage your audience and make an excellent first impression with the following channels of content:
Blogging
– An important piece of content that can target your user persona at the awareness stage of the buying journey. Focus on a particular topic or problem that may interest your audience and offer insightful, original information that encompasses your brand.
Social Media Marketing
– Utilising social media platforms to promote your content is an ideal way of attracting customers to your business. According to
Pew Research
, 72% of the public use social media in some form throughout their daily lives, meaning that it's an effective way to reach a large number of people conveniently.
Whitepapers & Ebooks
– The appropriate content to create when your audience is looking for more in-depth knowledge of your industry or products and services. These channels are informative and are downloadable. It's important to provide unique information that cannot be found elsewhere so that your audience is compelled to read it thoroughly and take their time to understand it.
How-To Guides
– Help your audience learn a new skill. When your potential customer reads a guide or watches a how-to video, they are not only learning more about a particular problem, but they also understand how it can be solved, and how your company can help them do it. How-To videos or guides are easy to understand and create a great first impression for audiences – especially when you're trying to guide them down your content marketing funnel.
Videos & Webinars
– Try providing information through different platforms. Including a video or webinar into your content marketing strategy could attract customers who are looking for more visual or auditory content. Not everyone wants to read long essays and excessive pieces of content, and therefore, introducing videos may be a better way to attract audiences and gain their interest. This will encourage them to follow through into the next stage of the buying process – the middle of the funnel.
Middle Of The Funnel – Guiding The Customer
When customers reach the middle of your funnel or the second stage of the buying journey, you need to remember that there will be fewer people willing to interact with your business than there was in phase one. However, those that made it to the second stage will be more likely to continue with their buying journey if they are adequately encouraged. Therefore, the middle of the funnel (MOFU), is focused on guiding the audience through educational prose and an in-depth analysis of how your products or services work to ultimately turn them into a customer.
The success of middle of the funnel content is usually measured through conversion rates and the number of leads the content generates. To get the desired numbers in these categories, you must utilise the best content strategy to guide customers into your business. Studies by SEMrush state that 72% of marketers use email marketing as a way of keeping people engaged with their brand, and nurturing leads. Other channels included social media marketing and organic search.
Measuring the success of your middle of the funnel content is similar to the previous stage. You can track its effectiveness through conversion rates – which is one of the main goals throughout your content marketing funnel, and you can also measure the number of leads your content generates as well as the number of visitors to your site.
Middle of the funnel content
Provide your audience with content that helps them consider doing business with you with the following:
Case Study – Appeal to the emotions and logic of your target audience by providing detailed information and quantitative data on how a problem within your industry can occur and how your company can help solve it. Case studies can be utilised in the middle and bottom of the content marketing funnel is it helps to tell an overall story.
Free Samples/downloads – Offering free samples is a great way to entice customers by showcasing your products or services without them having to pay for it. An effective way to do this is through free information – such as courses or downloadable eBooks.
Product Overview – Choose a specific product from your business that sells well and has good reviews. Create a spotlight over this product and discuss its features, benefits, cost, and any additional information that may persuade customers to make a purchase. By focusing on a product and showcasing its advantages, potential buyers are more likely to connect with the product and want to try it for themselves.
Email Marketing – Remind your customers of what your brand stands for and what they offer through the use of email marketing. Email content is an excellent way of keeping your audience interested and up to date with your brand.
Bottom Of The Funnel – Conversions And The Final Purchase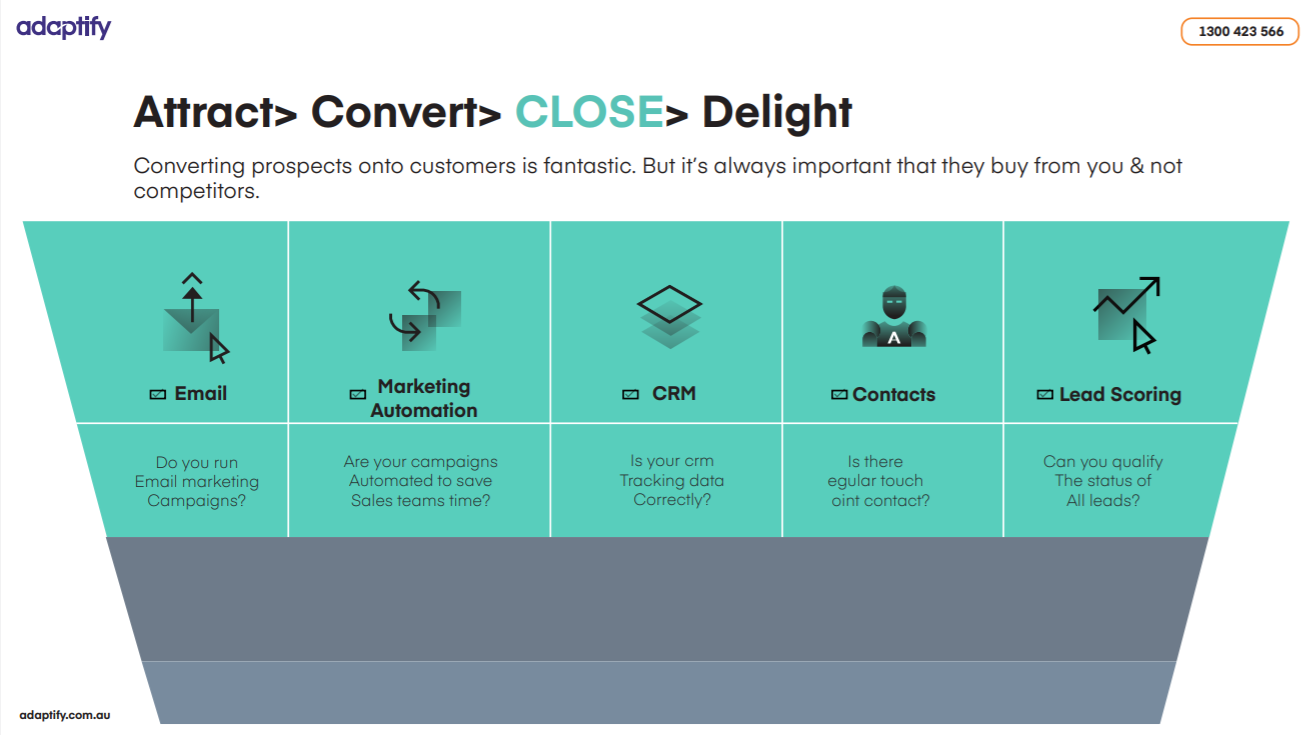 The bottom of the funnel (BOFU) is the stage where you can accelerate the purchase. It's the last step of the buying journey in which you need to win over your audience and present them with information that confirms your superiority in the industry you're a part of. It would be best if you were utilising content as a way of rising above your competitors and building a sense of trust between your business and the customer. The easiest and most effective way to do this is by creating content that answers specific questions about your product or service – you've done all the introductions, now it's time to go into detail.
According to SEMrush, 51% of marketers use product reviews to spark a heightened sense of interest within their audience, while 49% relied on customer reviews and 42% with success stories. By allowing your potential buyers to hear from past customers, you're allowing them to gain insight into a third-party experience. As they have utilised your services or products, their opinion holds more weight than if you were to try and sell the product with just your own words alone. It's important that you provide all necessary information to your potential customer to support their buying decision and convince them to connect with your brand. This, in turn, will result in the purchase that you want to finalise.
You may be wondering what forms of content marketing generate the most sales. Research by SEMrush has proved that the most efficient channels for driving payments include email marketing at 73%, organic search at 61%, and PPC or paid advertising at 47%. Therefore, when it comes to the bottom end of the content marketing funnel, optimising your content will allow you to not only increase your audience but also better persuade them to buy.
Bottom of the funnel content:
Help your audience make a final decision at the bottom of the funnel stage of the buying journey through the following:
Free Trial – Everyone loves free things. No matter what it is, if it's free, you peak people's interests. If you're providing a service based on subscription, offering your potential customers a free trial where they can familiarise themselves with your business is an effective way to later convert them into a buying customer. As they use your platform, they'll figure out the benefits for themselves, which may lead to them to wanting to use it for a more extended period of time and therefore, subscribe or buy it for themselves.
Consultation Offer – Entice your audience with an opportunity to receive your services and understand what your business is about. A free consultation or free strategy session can alleviate any of the worries your potential customers may have.
Coupon/Sale – Reducing the price of your product or services, especially when trying to persuade a potential buyer to trust you, is hugely influential. Buyers are more inclined to decide on purchasing when they know they are getting a good deal.
Customer Reviews/Success Stories – Utilising past customers to produce reviews and success stories can act as a bridge between your company and new clients. By hearing of someone experience with your company and how positive it was, you'll be converting more customers.
While each stage of the content marketing funnel requires individual focus, ensuring that it all flows together is just as important. Make your content funnel work as a single entity that influences a potential customer's buying journey. You'll want to guide your audience down the content marketing funnel to generate leads and attract traffic. However, to do so, you need to figure out which tactics work best in persuading your audience to move to the next phase of the buying journey.
How do you ensure that your audience moves to the next stage of the content marketing funnel?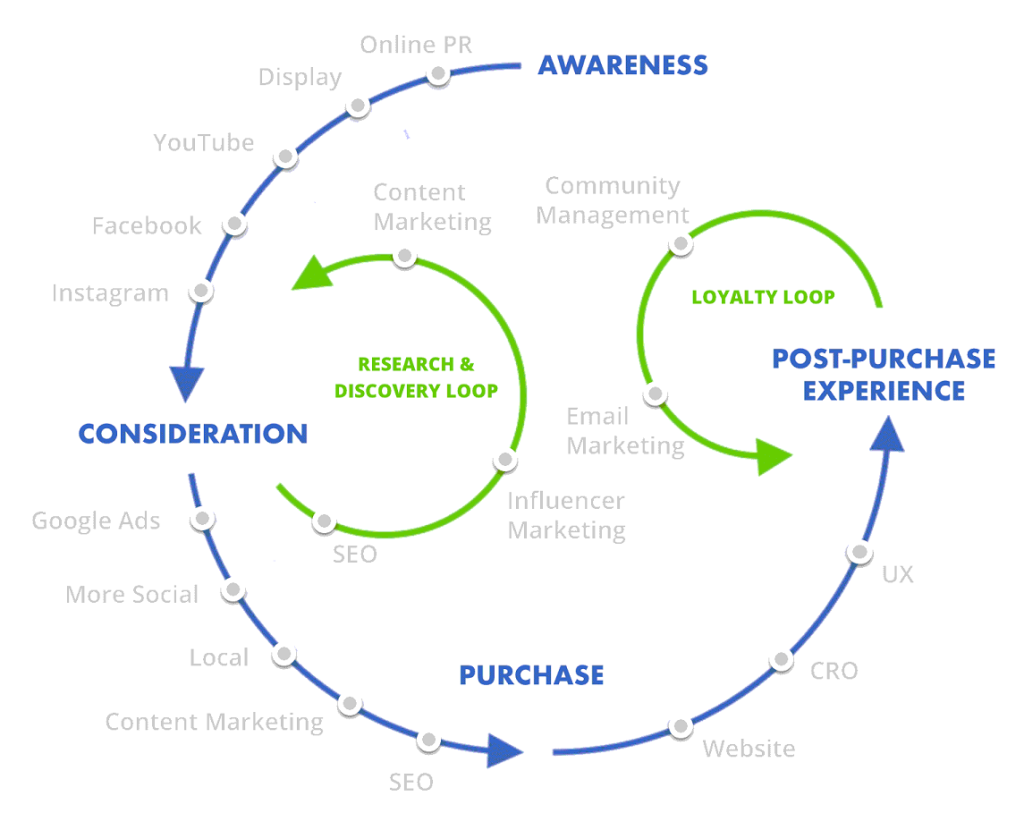 Studies conducted by
SEMrush
suggest that sending email follow-ups works the best, with 71% of marketers admitting that they use this technique regularly. However, other tactics included improving internal linking, suggesting related content, paid channel retargeting, and adding banners and pop-ups. By creating a cohesive content marketing funnel, you'll be ensuring that the customer is engaged through the TOFU, MOFU, and BOFU – and ultimately, allowing you to generate more traffic for your business and increase conversion rates.
Contact Our Content Marketing Agency Today
Are you ready to start building the best content marketing funnel for your business?
Contact us
today on
1300 423 566
to start discussing the best channels and content strategies for your company. When you implement a high-quality, comprehensive content marketing funnel for your business, you can start to guide your customers through a buying journey, and attain the conversions results you've always wanted.