The Bust never really settles when it comes to Google changing algorithms for optimising user experience. That is why businesses around the world are focusing on mobile optimisation designed to offer the best experience to users accessing websites from smartphones and tablets. Adopting mobile-first best practices, along with other digital strategies, guarantees the best of both worlds. SEO plays a vital role in the continued success of your mobile marketing strategy. It doesn't cost anything extra to implement and can be the secret sauce to keeping up to trend with Google's latest updates and planned releases for the future.
In this detailed and definitive guide, we share how to make your mobile website capture more leads and sales by leveraging critical aspects of mobile SEO, ranging from responsive design, local SEO to technical features and website speed. You can implement these 10 mobile SEO best practices right away.
So, what does mobile-friendly SEO mean? It is about delivering an outstanding experience to the users accessing your website from tablets, mobiles, and smartphones. Deploying mobile SEO helps your website to load faster and live up to the expectations of the visitors. This positive experience across all devices enables you to rank quicker and reduce the bounce rate as well.
The latest research shows that there will be 21.5 million smartphone users in Australia alone by 2025. This skyrocketing mobile device usage has led to an upsurge in consumers shopping online from their mobile devices. In fact, the latest PayPal m-Commerce Index shows that at least one in four shoppers in the country will buy products from their mobile phones. These figures support the absolute importance for businesses to adopt a mobile SEO approach ground up.
It all started with the Mobilegeddon update launched by Google in 2015. This update affected thousands of websites which were not mobile-friendly back then. Today, the entire algorithm of Google runs on the idea of mobile-first indexing.
Let's dive into mobile indexing and tips for nailing it in the next section.
What Is the Mobile-First Index?
If you have been baffled with the hype around the mobile-first index, let's delve deep into what it means. Mobile-first indexing refers to the way Google uses the mobile version of a website to index and rank content. Earlier what mattered was whether a website is relevant to the query of a user or not. That has slowly shifted towards Google predominantly using the mobile version for understanding relevance. Mobile-first indexing means the mobile version of your website is used for indexing and ranking purposes. For example, a business without a mobile-friendly website can still rank for its desktop site. However, a website with a mobile-friendly website will rank better than one without it. So, how do you know if your website is optimised for mobile-first index? Here a few pointers that you can check your site against. This will give you a fair idea of whether or not your website is mobile-friendly.
Have a separate mobile website i.e. m.xyz.com? Here are a few checkpoints that you should consider:
10 Mobile SEO Best Practices That You Can Implement Right Away
Before you go on to implement changes to make your website mobile-friendly, the first step is to understand where your website stands in terms of mobile usability. One of the best ways to do this is to check the 'Mobile Usability' section from Google Search Console. This will give you a clear picture of whether or not your users are facing any issues while accessing your website from a mobile device or a smartphone. The test results indicate the problems your site is having. Here are 10 best practices which you should adopt to make your responsive website more SEO-friendly.
1) Integrating Responsive Design: A responsive design aims to keep the user at the core and deliver a positive user experience. Responsive design helps you to deliver a consistent experience to your users irrespective of the device used. Google loves responsive designs because you are not building multiple sites; instead using one that adapts to the device screen. An additional benefit being that you require only one codebase.
A responsive website adapts to the screen it is being viewed.
Here are a few tips that you can follow while creating a mobile responsive website:
2) Go For Dynamic Serving: Dynamic serving is another popular option when it comes to creating mobile websites. It relies on server-side technology to determine which version of the website to cater to the users. While users visit the same URL, the files sent differ depending on the device the site is being viewed on. A 'Vary' header tells the search engine that it will receive different mobile-optimised files. This setup uses the same URL but responds to queries with different HTML and CSS.
Here are some of the things to remember while building dynamic serving websites:
3) Create a Separate Mobile Website: Creating a separate mobile URL is a popular practice among businesses planning to optimise their site for mobile-friendliness. These websites often appear as 'xyz.com/mobile' or 'm.xyz.com'. The idea here is to create a customised experience for mobile users with a site that runs alongside the desktop version. This allows mobile users to access a site that is optimised for mobile browsers; however, this is becoming an outdated practice.
The key things to remember while creating a mobile site include:
4) Help Google Crawl Every Element: If you are blocking the Google bot from accessing certain parts of the site code, that's certainly the wrong way to go. Even though this didn't matter so much earlier, today, Google needs to crawl every element of your website to understand whether or not it is mobile-friendly. Head to the robots.txt file and look for instructions that tell the search engine not to crawl/index certain parts of the website. You can find this file inside the Google Search Console or at site.com/robots.txt. The key takeaway here is that you shouldn't be stopping the Googlebot from accessing CSS, JavaScript, or any other important element of the site code.
5) Optimise Meta Descriptions: Optimising meta descriptions is an essential part of mobile-friendly SEO. Mobile users are looking for relevant information on the go. They often look at the title tag and meta descriptions to understand whether your website is worth clicking or not.
6) Optimise for Local SEO
: Local SEO is a crucial part of mobile searches as they are inherently local. Findings from a Google
study
show that 76% of users who searched for something close by visited a business within 24 hours of searching. Even better, 27% of those visits led to a sale.
Local SEO
is going to be your businesses' best friend. People use search phrases such as "near me", "open now" and "best place to buy" to find local businesses nearby. To fulfil the local demand or near me searches, you must adapt your SEO strategy to reach these people. Chances are, local searches will look different from the desktop searches. You need to know what to target and how to target, for your local SEO.
Source: Google My Business
Tips for nailing local SEO for mobile are:
7) Use Pop-ups Sparingly: Pop-ups are effective in telling the users about the next action they are required to take. Whether you want your visitors to sign up for your newsletter or download free resources, pop-ups can help you achieve both. They draw the attention of your users to a specific item. Pop-ups can be designed to appear at a particular part of the website. Even specific actions can trigger the pop-up. For example, when someone scrolls to a particular position on the page, when they want to head back to the search results, or even when your users want to close the website.
Despite the usefulness of pop-ups, they might not give you desired results on mobile devices. There are two key reasons why they leave a website user frustrated, especially when they are browsing the mobile site. Firstly, the pop-up takes up the entire space of the mobile screen, making the experience intrusive. Secondly, when not designed rightly, the user does not know how to close or get rid of the pop-up. This may result in them leaving the site. Here are a few tips that you should remember while creating pop-ups for your mobile site.
8) Let them See It All: Earlier websites used to offer limited information to users accessing the website on mobile devices. This strategy helped those sites to load faster. It helped them to improve their mobile experience. With time, this changed. Now with the mobile-first algorithm in place, Google considers the mobile version to understand your website content and index it. When you restrict mobile users from accessing certain content, Google is not able to index or crawl it. If the content is relevant for the user, it is better to show and optimise accordingly.
9) Improve Site Speed: Website speed is another crucial factor when it comes to site speed. PageSpeed is all about how fast your website loads on mobile devices as well as desktop. Websites like GTMetrix provide you with complete insights into how you can improve your speed. You can also look at the Core Web Vitals report in the Google Search Console to understand how your website renders content.
PageSpeed Insights consider three vital metrics which are given below:
Source: Search Engine Journal
10) Implement Accelerated Mobile Pages (with a caveat …): Accelerated Mobile Pages or AMP is an open-source project led by Google. These pages are stripped-down versions of your web page and are designed to load 4x faster than non-AMP pages. There is an ongoing debate on whether or not your site can benefit from AMP. Earlier AMP was not able to power websites that required user interaction. Today it is widely used behind canonical websites.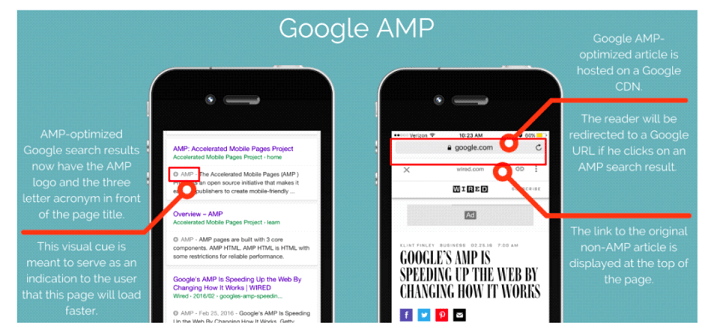 Source: Objects and Solutions
Want to know if it makes sense for you to use AMP? Here are a few checkpoints to consider:
A quick roundup of relevant questions around Mobile SEO