If you want your website to rank on Google in 2023, you can't undermine the importance of link building. Nor can you ignore the need for a solid SEO strategy to earn high-quality backlinks. Link building remains one of the top three most important ranking factors for Google.
Whether you are an SEO beginner learning to build links or you have extensive experience and want to fund new strategies, this guide shares the approaches you can take. We also cover how to build links with strategies that are effective and tips to earn top-ranking positions.
In the simplest terms, link building is the process of getting other websites to link back to your website.
Acquisition of new inbound links (known as backlinks) from external websites is crucial for improving the search engine visibility of your business. These backlinks are essentially one-way hyperlinks that can be gained with different link building strategies such as email outreach, broken link building, content marketing, blogger outreach and so on.
The latest research shows that top-ranking web pages earn do-follow backlinks at a rate of 5%-14.5% every month.
There is a connection between gaining backlinks and ranking higher in the search results. But, how? Google wants to share useful information with users in an accessible manner. The more high-quality backlinks that point to your website (also called the backlink profile), the higher you can rank on Google, therefore receiving a higher level of organic traffic.

High-quality backlinks make it easier for you to rise above the competition. And, here is how that happens.
While the algorithm used by Google to rank websites is not known, here are some of the crucial ranking factors that you should know about.
What is the Importance of Link Building for SEO?
Although link building is a crucial part of any successful SEO strategy, it takes time, efforts and resources. Those who can successfully implement strategies to build better links than their competitors witness significant growth in their organic traffic and ultimately, revenue. That is why you should understand the importance of link building for SEO. The main reasons why you need to make sure to focus on building high-quality backlinks as an SEO strategy are:
Link Building Glossary: The Commonly used Terms
What to Look for in Backlinks? The Key Elements of a Successful Backlink Building Strategy
Now you know why backlinks are so important. But, what should you look for in these backlinks?
Remember, while planning a link building strategy, not all links are equal. Sure, more backlinks increase the chances of your website showing up in search results. However, you shouldn't be building links blindly. By this, we mean you need to understand what a great link looks like. You will see a better impact with the right links. The reason being, each website that you get a link from is technically a vote. More votes bring in greater chances of your website showing up in search results. The number of votes matters. What matters, even more, are the factors that influence the ranking of your website. And the key components of a great link building strategy.
One of the most important link building considerations is the kind of website you are getting an inbound link from. You should be targeting high authority websites rather than the ones that just started. So, how do you measure the authority of a website?
Before getting backlinks, you should be looking at two metrics – UR (URL Rating) and DR (Domain Rating). URL Rating (UR) refers to the authority of an individual page. Domain Rating (DR) shows the overall strength of a website. Both are measured on a scale of 100, 0 being the lowest and 100 being the highest. You can check the authority of a website from Ahrefs. In the example above, Ahrefs.com has a UR score of 87 and a DR score of 90. You have a better chance of ranking when these scores are higher.
Over the years, SEO experts have come to agree that backlinks at certain places carry more weight. For example, an inbound link from within the content will be more valuable than one in the footer. Now, what can be the possible reason behind this?
When you get an in-content (contextual) link, the chances are high that it is surrounded by relevant content. This indicates the search engine about the link juice a website should get. In fact, the Reasonable Surfer Model of Google shows that the weight of an inbound link depends on its chances of being clicked. Even though in-content links are the gold standard in link building, Google may give more weight to links located in footers or sidebars, depending on the authority of the linking website.
Anchor text is another crucial factor that you should keep in mind while getting backlinks. It refers to the clickable phrases and words that are used to link to another web page. Different anchor text variations include exact match, partial match, phrase match and branded match.
A recent study by Ahrefs indicated that there is a strong connection between rankings and keyword anchors. This study of 16,000 keywords showed that pages ranking first on Google had 24% partial match links and 13% exact match links on average. For example, suppose your web page contains the target keyword – 'digital marketing services.' In that case, you are likely to get benefits if the inbound link contains either an exact match (digital marketing services) or a partial match (this page about digital marketing services).
The value of a backlink also depends on the relevancy of the inbound link. There are two factors when it comes to link relevancy – anchor text and the outbound links on the web page you are getting a link from.
In this process, Google also considers the text surrounding a link. This is known as a ranking based on reference contexts and Google filed this patent in 2004. After crawling a page, Google finds out the rarest words from the immediate text that surrounds the link. Now, these words are evaluated against all documents indexed on the web using weighting techniques like IDF (Inverse Document Frequency) or linguistic modelling.
Link building isn't necessarily all about search engine rankings. What matters, even more, is whether or not you are gaining qualified traffic from these inbound links. This is why you should target relevant websites where the readers will be engaged and find value in your website.
To build the right links, ensure that the backlinks are from websites and context closely related to your own website's topic or industry. When prospecting for link opportunities, ask yourself whether you would pursue this link even if Google did not use links as a part of its algorithm. If the answer is yes, expect it to send relevant referral traffic. This means the links are from a topically related website that your audience refers to. When the answer is no, it is a good indication that the link is not relevant to your business.
The most effective links are editorially placed because a third-party decided to add a link from their website to yours. Google highlight in their guidelines that this kind of link is not deemed unnatural. They are not a result of payment or any incentive. They increase your rankings.
A great backlink profile has links from a higher number of unique referring domains. Earn links from new domains that have never been linked before than the same few domains time and again. Links from a higher number of unique domains help a site rank in prominent positions. Even sites ranking with lower authority have a stronger ratio of link rooting domains as compared to their counterparts.
Not all links impact a site's ranking equally. Some links such as "No-follow", "UGC" and "Sponsored" do not pass PageRank. When it comes to SEO, you want a higher number of "followed" links from quality sources.
The common perception of no-follow links is that they don't contribute to search engine rankings. So, what's a no-follow link?

Example of a no-follow link. A no-follow link comes with a rel="nofollow" attribute. According to the Google guidelines, paid links usually come with this attribute. While do-follow links contribute to rankings, no-follow links from trustworthy sites are worth acquiring and make your backlink profile look like a natural one. The other links include: Rel = "sponsored" – This attribute indicates that a link has been paid for (and does not pass PageRank). Rel = "UGC" – This attribute points out that the links come from user-generated content including forums and comments. As these links are not editorially placed, they may be manipulative.
Link Building with Content Marketing
It is a proven time and that content unlocks valuable backlink opportunities. Here are 4 types of content that work best for link building and are used to generate most links.
Remember, merely publishing content will not land you any links. You will have to promote your diverse content assets.
Visual assets are easy to link to, even in 2023. The relationship of "share my image and link to my website" does not exist for text-based content. Backlinko unearths tons of insights from the data they collect every year. The findings are posted in the form of visuals that receive lots of links.
List posts work as link building assets because they pack a ton of value into chunks of bite-sized information. Buzzsumo discovered that list posts outperform videos, infographics and quizzes to generate more backlinks than any other form of content. A classic example is HubSpot curating statistics every year. They act as link magnets. When these articles have so many links pointing to it, they rank on the top.
Statistics and data are highly-linkable and build up links quickly. Every time anyone cites your data, they will link back to you. Backlinko's study on Google's 200 Ranking Factors has accumulated a whopping 31,000 backlinks in less than 3 years.
Ultimate guides contain an insane amount of information in one place, making it the go-to guide on that topic. Moz's guide on keyword research has 16,000 backlinks.
After creating link-worthy content, the next step is to backlinks for these resources.
Proven Link Building Strategies for 2023
Let us show you a handful of link building strategies that work. They are easy to replicate for your website. Even in 2023, these backlink strategies bring impactful links, which drive traffic and increase revenue for your business.
#1. Stealing Competitor Backlinks
Have you already spent a lot of time and money optimising your site? Still not able to outrank your competitors? Stealing competitor backlinks is the right thing to do at this stage.
Feeling a little sceptical? The idea behind this strategy is to understand the websites your competitors are getting inbound links from and execute them better for your business. To get started, you will need to use a tool like Ubersuggest.

Step 1: Enter the website URL of your competitors, one by one. Step 2: Scroll down to the bottom of the page where you will find a section containing backlinks (looks like the image below).
Step 3: This is the time to do the actual research. You need to look for two things here – websites with a minimum domain score of 50 and the kind of content they received backlink for. Either go for old fashioned pen and paper or create an excel sheet to note down your observations. Here are a few things to observe:
Once you complete this activity, you'll have a fair idea of the type of content your competitors are getting backlinks. In addition, you will also have the list of websites that are getting the backlinks. Step 4: Find out the contributors who have given a link to your competitors. Send outreach emails and follow up. An email extraction tool such as Hunter.io will give you the email addresses associated with that website. Don't ask them to promote your website right away. Build a rapport with them with a personalized email. If they see value in your product or website content, they will give you a backlink at the right time. It might be challenging to get these editorial links, but that's why they are valuable. Here's an outreach template you could use: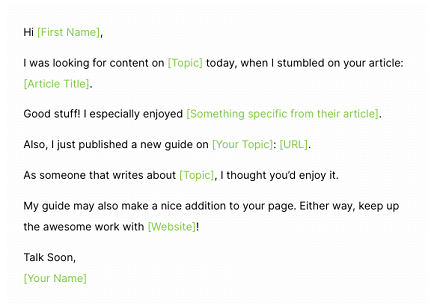 Guest posting on relevant sites is a well-known tactic. However, forming new partnerships and pitching articles to multiple sites can be time-consuming and discouraging.
You can boost your backlink strategy by becoming a contributor. It is a highly effective backlink strategy but often overlooked. You can develop partnerships with a few websites by regularly writing for them. It will help you to secure opportunities to showcase your writing skills and build trust with the site owners. Moreover, it will guarantee visibility and could lead to more backlink placements.
You can take it slow and steady. Start by networking and sharing valuable insights on forums. Then, create exceptional content for your blog. And don't forget to attend events and leverage those relationships for link-building opportunities. These efforts will pay off great rewards in the long run.
Moreover, internal linking lets you make the most out of your guest post backlinks. It will allow you to link to relevant pages within your website to share the rise in authority. It can boost your overall visibility and strengthen your online presence.
Find backlink opportunities fast with a link gap analysis. Discover sites that are linking to your competitors but not to you yet. By analysing your competitors' websites, you may discover potential linking opportunities. For example, if a website has already linked out to multiple competitors in your industry, there is a higher chance they will also be willing to link back to your site. As a result, it will increase your website's visibility and attract more traffic. You can make the process of acquiring backlinks simpler with the use of the Backlink Gap tool.
Stay Informed of the "Best of" Trends!
It would be helpful if you could stay updated with the latest trends in world news, technology, pop culture, food, and more to create compelling and shareable content. So don't miss the chance to captivate your audience with trending topics.
Discovering and capitalising on trending topics is easier than you think with Google Trends. First, use the search engine to find hot topics and make a strategy to turn them into new content. Then, start creating content that is in high demand and stay ahead of the game.
To gain more visibility for your content, focus on trending topics and include the term "best" to make it more click-worthy. By utilising this strategy, you can create content that is sought after, captivating and earns valuable backlinks.
How to Measure the Effectiveness of the Backlinks?
You can turn to Google Analytics to measure the impact of your backlinks. This tool can monitor traffic and conversion rates for individual backlinks, making it easy to pinpoint the sources driving the most traffic to your site.
Regularly monitoring these analytics will keep your website content more relevant, authoritative, and informative. Also, it directly impacts your website's search engine ranking. So, stay on top of your website's analytics to ensure its success.
Publish guest blogs on authority websites. You must have heard this advice numerous times since you started working on improving your digital footprint. Well, guest posts indeed work when they bear trust and quality signals. The authority of the website you are publishing content on and the credibility of the author matter the most. If you consider yourself as a marketing expert, you wouldn't want your insights to appear only on your blogs. Guest blogging gives the best results when you stop thinking about building backlinks and start sharing useful insights and tips. That's when the magic happens because Google wants useful and relevant information for its users. With guest posting, you can attract qualified traffic, capture leads, and develop the reputation of your business at the same time.
Wondering how to get started? Do a simple search on Google with the operators shown in the image above. You will find hundreds of websites which are happy to have you as a contributor as long as you follow the guidelines.
Adaptify is an Australia-based digital marketing agency. For SmartCompany, one of Australia's leading technology publications, our founder Indrajit Das wrote a guest post on the effect of COVID on SEO.
They linked to the Adaptify website in the author bio.
Hard-earned backlinks often disappear over time, for reasons beyond your control. You might have received a backlink from a high authority website once upon a time. But it might be actually broken. Reclaiming these links help you to boost your backlink profile and improve ranking. You can quickly implement link reclamation for broken internal links, unlinked brand mentions, and uncredited copyrighted material. So, how do you go about it?
Free Broken Link Checker by Ahrefs For Broken Internal Links Step 1: Enter your website URL in the free broken link checker by Ahrefs. Step 2: You will have a list of broken inbound links. If you find quite a few 404 pages on your site, you are at a loss of link juice. To fix these broken links, you need to add 301 redirects for each of the broken links. Alternatively, you could take advantage of a competitor's broken link. For example, Ahrefs' site explorer helps you find broken pages on the competitor's website.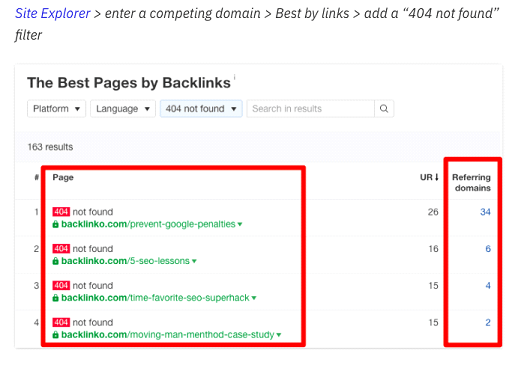 This report shows the number of referring domains which point to a broken page on Backlinko. This is a goldmine of opportunities. You can create a resource similar to the broken page and reach out to everyone linking to the dead source, to instead link to your working resource.
#4. Unlinked Brand Mentions
Chances are, blogs may mention your business or product. But it might not contain a backlink to your website. This happens more frequently than you can imagine. The benefit of such mentions is that you are halfway through to earn the link. Since they have mentioned your brand, they are already familiar with your business. In such a case, reach out to the website owner or blog author, thank them for mentioning your business, and ask if they would be willing to consider a backlink to your site. How do you find unlinked brand mentions? Ahrefs has a section "Content Explorer." They have a feature that highlights unlinked brand mentions because manual checking of linked and unlinked brand mentions can be a tiresome process.
#5. Uncredited Copyright Material
You should probably jump at this chance. Let's say you have copyrighted material on your website. This may be an ebook or cover image for a blog post. If another website used it without giving you a backlink, you could reach out to inform them about the infringement and ask for possibilities of accreditation.
The debate around the effectiveness of broken link building is real. You might not have excellent results with it, but it is worth trying. So, what is broken link building? Broken link building is one of the popular white-hat link building SEO strategies. It revolves around finding broken links of your competitors, creating better content, and helping webmasters replace the broken link with your content. Web resources disappear all the time. It might happen that a website linked to a resource of a business that went out of business or changed the destination page. Now, treat this as an opportunity. You can create a similar resource and reach out to the webmaster to consider your resource as an alternative to the original one.
The first step is to create a list of websites in a specific niche. Once you have the list, you can go to the Ahrefs Site Explorer. Go the best by links from pages under Site Explore. Filter results for HTTP 404 errors. You should get a list like the image above. As you can see in the image, the most linked-to page for tinybuddha.com doesn't exist anymore yet still has 31 domains referring to it. Now you need to get to the content creation part and reach out to the webmaster with the piece of content you create.
#7. Images for Link Building
Images can be a gold mine when it comes to link building.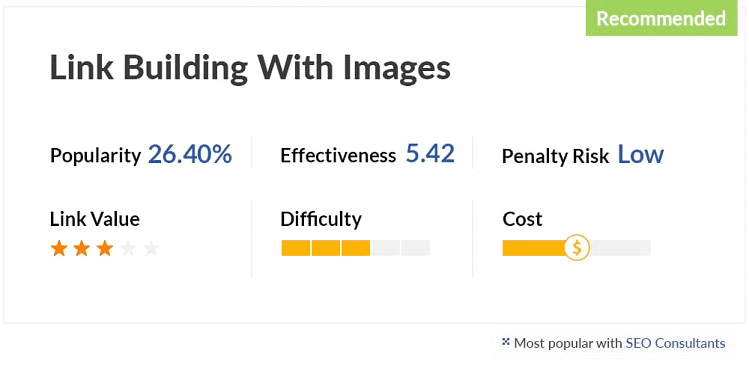 It is one of the most recommended link building techniques. Here is what you can do to garner backlinks with images. The first step is to create detailed and share-worthy images. Not sure what kind of image? Try the following ones to start with:
– Charts that offer a visual representation of data
– Niche-specific memes
– Images with quotes of famous personalities and industry experts
– Stock images (that can be used with attribution)
Now how do you know if a website has used your image? Try the Reverse Image Search by Google to track if any website has used your image. You can reach out to these sites for attribution.
#8. Infographics for Link Building
The old-fashioned way of getting backlinks via infographic is relevant even today. So, what can you do to get backlinks with infographics? The first step is to create an infographic on a topic that will interest the websites you want to gain a link from. Do your research time and spend time making this infographic a spectacular one filled with insights and recent data. Infographic outreach for backlinks involves reaching out to relevant websites which may be interested in a value exchange. The value proposition, along with a custom introduction, can go a long way. The infographic on the reasons why the brain craves for visual information has a staggering 19,000 backlinks!
#9. Newsjacking for Link Building
Newsjacking is all about sharing content from a unique angle on trending news. Timing is everything when it comes to newsjacking. For example, you can't share your ideas on a piece of trending news after a month from when the original news was published. Since journalists attempt to quote experts and cover all aspects, this can be a highly effective way of garnering backlinks.
Link positioning is a strategy not often talked about but can be utilized easily. They help your existing links work harder. For instance, start with analysing the links pointing to the homepage. They could be talking about a specific product or service you offer. They could be more suited to linking to an internal product page than the homepage. This is an excellent tactic if you are looking to build links to ecommerce product or category pages. You can reach out to them, asking to replace the homepage link in favour of the category page. And if you are wondering why they should do this, the answer is for "Relevance." Alternatively, if you are launching a region-focused site while previously having one global site, this is a great link building technique. Suppose you launch a new website for your product which targets customers in Australia. Analyse your website's link profile and look for com.au domains. Reach out to them and ask if they could update to your new regional website.
Help A Reporter Out is a platform for journalists where they seek quotes from experts for their content. Sign up as a source that offers valuable insights to the pitches shared. Stay away from replying to every pitch with poor quality answers lacking depth and clarity. Reply to selected pitches that are highly relevant and where our expertise matters. Giving a clear, focused and in-depth answer gives you a higher chance of coverage. How can you build backlinks with HARO? Every pitch that includes your answer as a source links back to your site. Bingo, that's a backlink. Keep an eye on relevant pitching that are sent to your inbox twice a day. Then, take time to craft a reply, because journalists discard thin responses instantly. Read the pitch thoroughly to see if you meet the writer's requirements and answer everything they ask. Don't expect backlinks to start rolling in with your first HARO reply. Have patience.
#12. Content Repurposing for Link Building
Content repurposing is another effective way of building backlinks. You can create an ebook or a presentation or an infographic from one of your existing blogs. When you share this repurposed piece of content on different channels, you have an opportunity to earn backlinks. A repurposed content piece should be able to stand alone. If you are gating this content asset, it can serve as a lead generator. HubSpot is famous for sharing gated resources relevant to blog posts. This article on how to write a blog post includes 6 free blog post templates which you can access after entering your contact details.
#13. Using Quora to Build Links
Quora is a question and answer platform where people and answer questions in areas of their expertise. The catch is Quora does not offer "do-follow" links. Instead, the 'no-followed" links offered do not pass on link juice.
So then, why should you use Quora? Because your link profile also needs "no-follow" links to look more natural. Also, your answers on Quora would increase the exposure of your content to an audience specifically looking for those answers. They can link back to you, indirectly, which still means the mission is accomplished.
Engage with the Quora community members by adding to others' answers. Answer relevant questions along with adding a link to your web or blog page. The trick is to make your answer valuable enough for the reader to click on your link.
There are two options:
#14. Content Syndication for Link Building
Syndicating your content is another highly recommended link building tactic that you should not miss out. To garner backlinks for content syndication, syndicate your content (blogs) to high authority sites such as LinkedIn Pulse, Medium, Business2Community, Outbrain or Taboola. Besides helping you get backlinks, content syndication gives exposure to your content to a relevant audience.
Frequently Asked Link Building Questions Answered
Here are answers to some of the most frequently asked link building questions.